This thread serves to collect nominations for the election of nine newly appointed GMC members. The new roster will go into effect around November 1.
What GMC Members Will Do
Thoughtful Evaluation: Evaluate grant proposals meticulously, ensuring that incoming applications contribute significantly to the growth of the Rocket Pool's ecosystem.
Collaborative Decision-Making: Work closely with fellow committee members to collectively finalize decisions on grant proposals, fostering a collaborative atmosphere for informed choices.
Expert Facilitation: Negotiate with applicants, assisting in the restructuring of project scopes and the establishment of achievable milestones, ensuring projects align with the network's objectives.
Quality Assurance: Upon request from the admin, verify that project objectives have been met and assess if acceptance criteria have been fulfilled.
Active Participation: Attend award discussions, retrospectives, and general meetings, actively engaging in meaningful discussions.
Governance Voting: Actively participate in voting processes related to internal adjustments, contributing your perspective as the GMC evolves and optimizes itself.
Financial Verification: Verify payment amounts, verify payment addresses, and sign transactions.
Expected Time Commitment
There is an expected time commitment of 3 to 4 hours per week. Demand can vary at times. Please only apply if you have the availability for it.
Here's what a month in the GMC can look like:
Example of an awards period:

Application Period (October 8th - November 11th)
Application Discussion Meetings - one for each subcommittee (November 12th - November 15th)
Negotiation Period (November 16th - November 20th)
Scoring Deadline (November 21st)
Final Voting Amendments, Discussion and Finalization (November 22nd - November 25th)
Award Announcement (November 26th)

Attendance of two 1-hour meetings per month.

Discussing, negotiating, and deliberating on 3 - 7 applications per month.

Discussing and voting on around 2 - 5 process changes per month.

Verifying payment addresses and transactions for around 30 minutes per month.
Note that these are all averages and can fluctuate.
Here's a look at the month of September: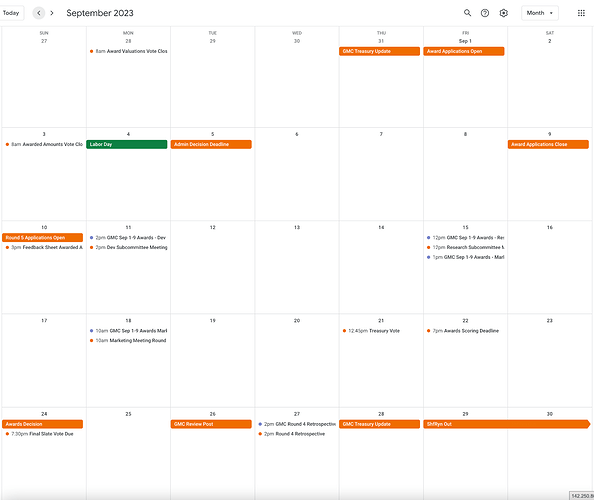 Subcommittees
The introduction of subcommittees has empowered committee members to specialize in specific areas. In the past, members were expected to have a broad understanding of all systems. Now, knowledge can be more focused. The current subcommittees include:
Development: focusing on tools built on top of the protocol, such as Rocket Scan, RescueNode, RocketWatch, etc.
Research: dedicated to research papers, governance writing, etc.
Marketing: creating educational content, videos, graphics, etc.
Current Roster Member Activity
Below is a document that highlights contributions, attendance, voting decisions, etc for the current roster.
How To Nominate
Per RPIP-10 (RPIPs/RPIP-10.md at main · rocket-pool/RPIPs · GitHub 26), this thread will be live at least 5 days.
Anyone can nominate anyone, including themselves
Anyone who is currently a GMC member or previously a GMC member can be nominated again
Anyone can remove themselves from consideration simply by saying so
After 5 days, there will be a "this thread is closed" comment, and the final list will then be generated
If you are nominated and don't remove yourself from consideration, please read the "Nominee information sharing" section of RPIP-10 so you can be ready to provide your statements. It is also recommended to choose a subcommittee you are interested in.