Draft RPIP: https://github.com/Valdorff/RPIPs/blob/deposits_under_minimum/RPIPs/RPIP-draft.md
Excerpt cuz it's smol enough that summarizing further doesn't make sense.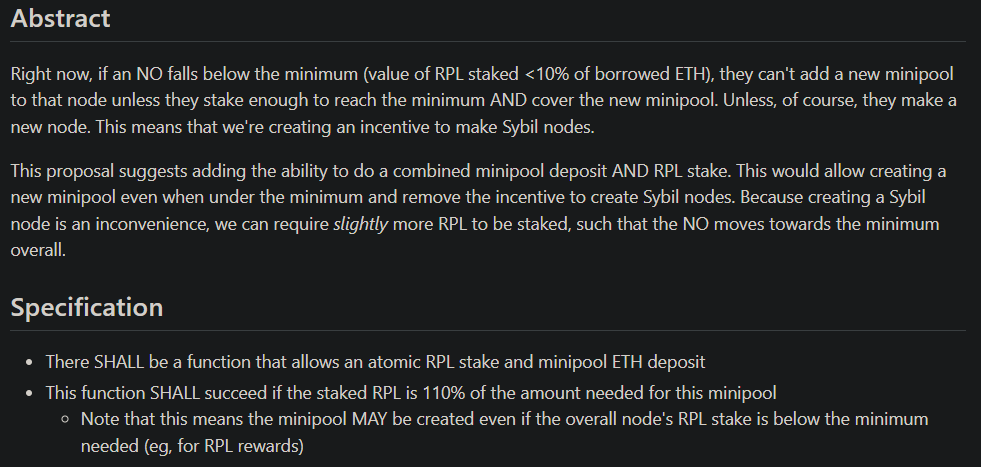 Why 110%?

I'm not really married to 110%, just looking for more than 100% so RP gets a benefit vs sybiliing while not being so high that people opt to sybil.

Sybiling costs: I looked at a recent node set up at 23 gwei (except one transaction at 13 gwei) and they spent 0.045 ETH (not counting minipool deposit). It's also got soft "costs" like needing to protect more keys properly and additional complexity to run the nodes.

So then the question would be .24 vs .04 + soft costs This is about 2% of the investment for an LEB8. I think for one pool, we'd see essentially no sybils taking on the complexity. At scale, say 10 minipools, now we're comparing .24*10 = 2.4 vs 0.04 + soft costs – here sybiling seems much more likely. Essentially, we're soft-cost dominated. I suspect there's only a modest difference in behavior between 110% and 105%. I do think we shake off a lot more sybils around 102% or 101%… but I don't really think it's worth pushing for that extreme.

Like I said – quite willing to change if there's a community preference.