Rocketpool, hello! This is Tetranome from Bankless Academy.
For those who aren't familiar, we're the Bankless public good focused on building fundamental web3 skills while introducing newcomers to the most Bankless tools in the space. We distribute sybil-protected Academy badge NFTs to users who complete our lessons and quests, supporting the user's web3 footprint, and helping communities identify their most informed users.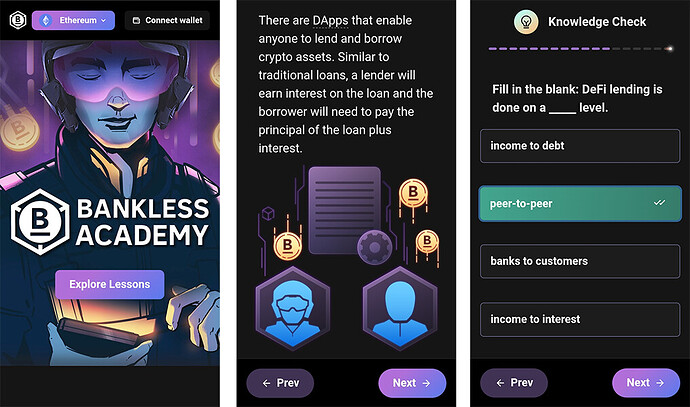 Our team is looking to build a 'Staking on Ethereum' lesson and we want to support decentralized staking through the content & quest. I'd love to hear your thoughts on a Rocketpool x Bankless Academy lesson, similar to our collaberations with Optimism & 1inch.
Lesson overview:
Staking Ether (why Ether is staked, the "Internet Bond" analogy)
Validator Nodes (PoS Consensus overview)
Node centralization risks (wealth concentration, 33% attacks, LSTs)
Liquid Staking Tokens (purpose, types, benefits/risks)
Staking economics (factors influencing returns)
Taking an rETH position (show option of running a Rocketpool mini-node in future)
Quest: Buy & hold rETH (accompanied by written walkthrough w/ screenshots)
This lesson comes with a companion article in our 'Explorer's Handbook' – a how-to guide, quest walkthrough, and quick reference sheet for users seeking more concise instruction (e.g. Managing Token Allowances).
Our grant request for lessons is $25,000, covering research, production, marketing, and lesson/quest upkeep. We also have the opportunity to translate and market this lesson + handbook companion in five languages, for an additional $5,000 grant. We are revisiting lesson agreements two years post-launch to discuss conversion rates.
Connection with a Rocketpool staking specialist, for periodic discussion & review, would add even more punch to a collaboration. Advisory helps us to identify key analogies and make our information as accurate & concise as possible.
Interested to hear your thoughts on the proposed material, and what improvements you might make to a possible collaboration. We'll submit a full proposal next week based on feedback. Excited to be here, thanks in advance.