Hi all – I plan to make a budget update proposal vote (after the voting body stuff is complete).
The pull request at 2023_09 budget update proposal by Valdorff · Pull Request #75 · rocket-pool/RPIPs · GitHub has been updated to include periods 14 and 15. I think I pre-calculated 15 ok, but have wording in there to allow reality to supersede my theoretical calculation if I missed something.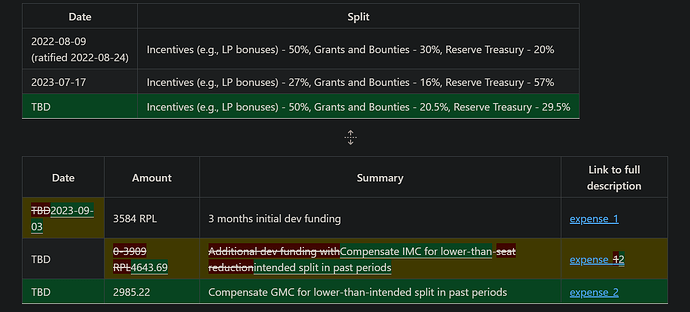 There are 3 things happening here:
One-time payment to make up for the split not matching intent for several periods
Correct the split to match intent moving forward for both IMC and GMC
Further increase the IMC's split based on the low end of the poll here
This is an offshoot of Justification for moving oDAO inflation to the IMC - #24 by Valdorff, and I want to point to @epineph's comment right after mine. The structure I've put in right now makes sense to me, but if the community has a preference for splitting into multiple votes, we can do that too.