Hello!
As part of RPIP-10 -
There SHALL be a pDAO Treasurer appointed via pDAO vote within 3 months; until such a pDAO Treasurer is appointed, jasperthefriendlyghost will serve as interim pDAO Treasurer.
The pDAO treasurer SHOULD post an update within one week of the end of each rewards period, which details the following for each category: starting funds, income, spend, final funds
…and so I now present the August pDAO treasury report. The month of August was very simple for the pDAO featuring only inflation and payment for the Bankless campaign. The September report will include IMC allocations, however, the IMC treasury report will detail how the funds are spent in detail. A tremendous thank you to @langers and @Valdorff for doing the heavy lifting in transaction sourcing / general bookkeeping.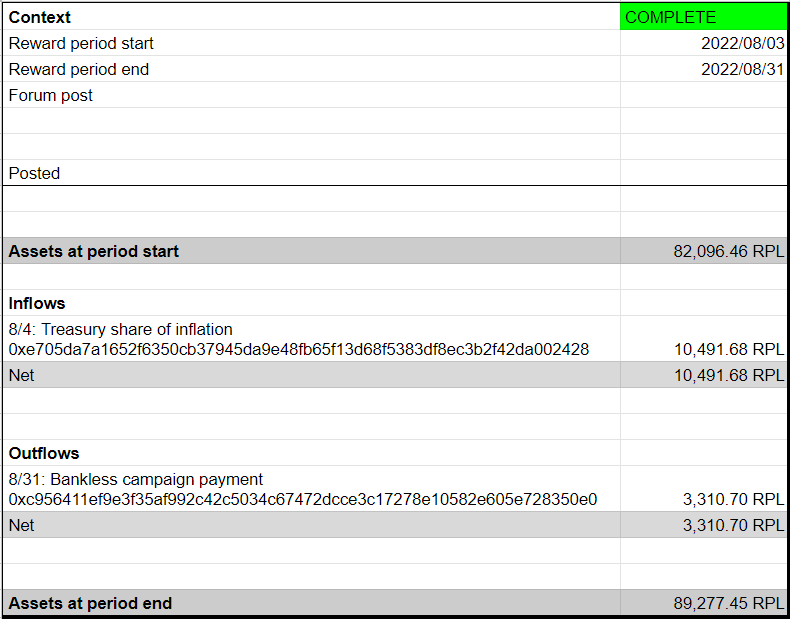 8/4: Treasury share of inflation
0xe705da7a1652f6350cb37945da9e48fb65f13d68f5383df8ec3b2f42da002428
8/31: Bankless campaign payment
0xc956411ef9e3f35af992c42c5034c67472dcce3c17278e10582e605e728350e0