Rocket Pool <> Metronome: Liquidity Incentives Matching
Summary
Authorize a 1:1 incentive matching program for up-to 2,500 RPL per month with Metronome towards rETH:msETH liquidity
Background/Motivation
Metronome (synthetic assets) and Vesper (yield aggregator) are sister protocols designed to interact with one another to offer users a compelling, capital efficient DeFi yield farming experience.
Users can deposit their preferred assets to Vesper and earn yield passively through bluechip DeFi strategies. They can simultaneously take this deposit and post it to Metronome as collateral to mint synthetic assets. They can use those assets to LP, generally as loans, for trading, or to loop their position into more of their deposit.
We believe this to be a very strong set of utilities for rETH in particular. Users deposit rETH to Vesper, where it earns yield by taking out loans from Maker (and as soon as it is supported, through Aave v3 and Euler as well). This enables a "staking-plus" yield experience: keep the all of the rETH yield and get extra DeFi APY on top.
Now take that "staking-plus" position onto Metronome, keep all of that yield, and additionally mint msETH or msUSD and do-more at the same time. In particular, users can perform a looping yield farming strategy in a way that is far more efficient than through Aave or otherwise (because the collateral earns yield and the synthetic loans are more competitive than a p2p lending pool).
That process is illustrated in the graphic below: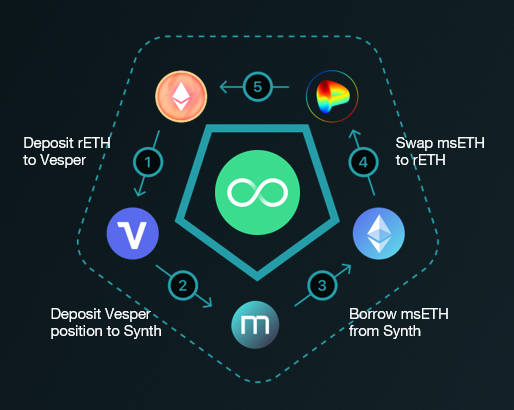 In exchange for this set of utilities, we would like to cement ourselves as partners beyond the "public" matching rate with a 1:1 liquidity incentives match.
Rationale
Per RPIP-11, the IMC has an explicit set of guidelines when gauging incentive programs. We believe that Metronome, Vesper, and this partner boost surrounding msETH-rETH liquidity is closely aligned with those principles. In particular,
The IMC SHALL expand access to rETH across major DeFi protocols: Outright, this proposal cements a prioritization to incorporate rETH across both Vesper and Metronome, enabling two DeFi primitives that rETH is currently unexposed to (yield aggregator and synthetics). And combined together, a third as well (looping positions).
And beyond this, the TVL routed through Vesper will additionally plug rETH across its existing DeFi integrations, driving demand and signaling to the market that there is appetite for rETH DeFi.
The IMC SHOULD sustainably build rETH exchange volume: This set of integrations, as outlined above, not only drives liquidity, but also tons of activity. Vesper TVL will drive deposits and borrows of rETH across other DeFi protocols, and additionally converting yield earned to buy more rETH. Additionally, users who participate in the looping strategy outlined above will be performing massive (versus initial position size) volume whenever they enter and exit the strategy, as they are buying rETH on entry and selling rETH on exit. The liquidity built around msETH-rETH is intended to be incredibly active liquidity.
And of course, this is all done in a manner that protects the mission of liquidity, peg, and capital efficiency. Our msETH is designed to trade 1:1 versus ETH, and by engaging in a liquidity incentives match, your incentives go 2x as far as we are putting up as many dollars worth of incentives as yourselves.
Specifications
IMC and Metronome will coordinate on the ideal destination for rETH-msETH liquidity. This may include Curve, Uniswap v3, and/or Balancer.
Both teams will utilize their governance token (RPL and MET) to bribe voters of the pertinent exchange at an equal $$ amount, up-to to the maximum allotted budget of 1,500 RPL per month, and allocated from the existing holdings controlled by IMC.