Hey everyone!
Now that the Atlas update has been successfully deployed and is running smoothly, we can turn our attention to the future of Rocket Pool.
The community is the heart of Rocket Pool. We believe that by working together, we can build the best possible decentralized staking protocol for Ethereum.
We need your help in co-creating and prioritising the Rocket Pool roadmap.
Some great ideas have already been raised in this Discord thread:
Summarised by @Ken in this doc:
The core team have also held a couple of workshops to gather ideas. The results of these workshops are summarized below:
The community and team discussions have identified a number of overlapping themes (bold is overlapped).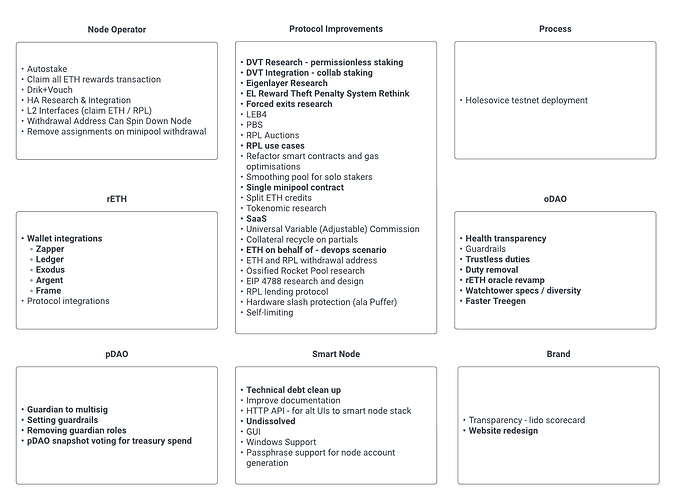 We have also developed a SWOT analysis to provide context and help clarify strategy.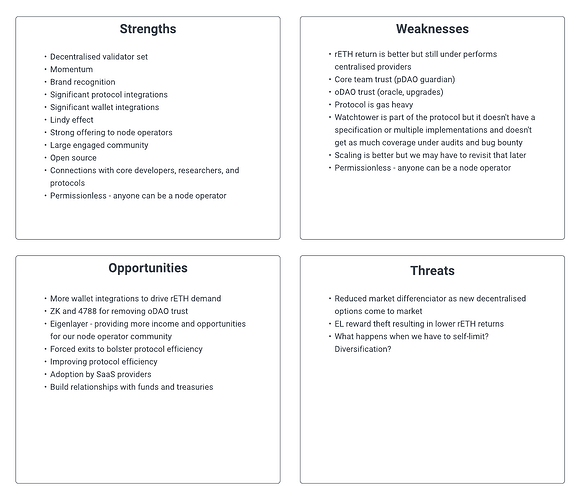 What is clear is that the core team will be engaged in a fair amount of research and design. There are exciting Ethereum roadmap potentials and emerging tech that we could leverage to further our mission.
What's next? We need you. We want your opinions to shape our focus and decide the themes to tackle and the features we build. Tell us what matters to you, so that we can prioritise. Once we hear from you, we'll build out a solid R&D plan.
We are very lucky to have a vibrant Grants and Bounties program so not all the work has to be undertaken by the team, some coordination will be necessary to determine how to resource the initiatives going forward.
Software development is not a straight line, especially when we're on the cutting edge. But as things clear up, we'll work with you to plan out our releases.
As we chart our course forward, your voice remains integral to Rocket Pool's success.
Thank you for joining us on this wild ride.